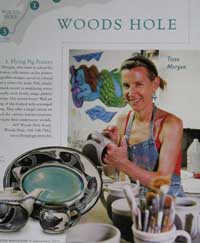 "Many of my pots tell little snapshot stories of their own; cats pouncing on yarn, mermaids playfully chasing fish or serenading one another. For me, each pot is like a painting that depicts a world that is small and separate, yet part of our larger perceptual realm."
About the Artist:
Tessa Morgan
As a city savvy teenager growing up in Washington, DC I was horrified when my family relocated to a farm in rural Maryland. To make the transition more palatable, my mother convinced an elderly potter down the road to take me on as a student. She sold her pots out of a shack behind the filling station in town and kept her wheel in the kitchen of her farm house. While I never took to country living, I embraced clay wholeheartedly. I had always loved to draw and carving designs into pots was second nature to me. From the beginning I covered my pots with colored slips creating a clay canvas on which I could work.
I majored in ceramics at Connecticut College and in 1983 set up a small studio in Woods Hole. In 1993 I received a BFA from Massachusetts College of Art as an illustration major, wanting to pursue my love of drawing and storytelling with pictures. I have since enjoyed a dual career as potter and illustrator. My illustration work includes many projects involving marine life as well more fanciful pieces. My published illustrations include Do Whales Ever...?, Do sharks Ever...?, Jump with Whales, and Beachcombers Companion.
I am a member of the Society of Cape Cod Craftsmen and Cape Cod Potters. I have been a featured artist in Cape Cod Life Arts magazine, as well as Cape Cod Life magazine.
Photo: Alison Caron