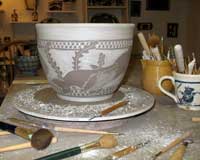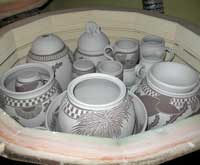 About the Pottery
The Flying Pig Pottery sells one of a kind functional stoneware. Each unique piece is wheel thrown white high fired clay, decorated using sgraffito technique.
Sgraffito is the art of carving through a colored slip to the contrasting clay body beneath. The Flying Pig Pottery's signature work consists of a white clay body decorated in dark blue slip which is then dipped in a clear glaze. A line combining a warm brown glaze with green highlights over a blue slip is also available.
Images adorning the pots are inspired by the marine life surrounding Cape Cod as well as whimsical creatures of the imagination. Mermaids, fish and squid eternally swim around the outside and rims of large bowls. Pigs fly, cats chase mice, heron's catch fish and trees stand tall in a marriage of bold graphic design and pottery form. Because stoneware is a strong clay, pieces do not easily chip and are dishwasher and microwave safe.